Deckorators Sleeper System
We are excited to announce we will be stocking the sleeper joist system by Deckorators.
The Deckorators joist sleeper system is substructure designed with minimal ground clearance, perfect for decking over existing pavers, patios, concrete or rooftops. The two toned colour system of the joist sleepers makes it perfect to use with any Deckorators decking colour palette.
Just like the Deckorators Voyager boards, the Sleeper System is made from composite materials that will not rot or splinter. The sleeper joist system is perfect for near pools or coastal areas with the innovative Deckorators technology.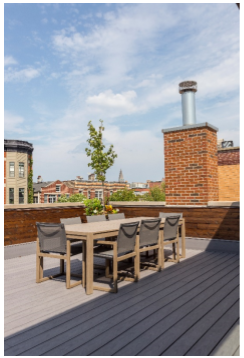 As seen in the photo above, the Deckorators Sleeper system enables you to build your deck anywhere and is perfect for rooftop decks. With the Deckorators technology you won't be hindered by large thermal expansion or the hassle of treating and oiling a timber deck. With Deckorators you get your dollars' worth with long lasting and low maintenance decking that is standing out in the market.
To be used with the Deckorators decking boards for best results.
Size of sleepers: 38x38 5.8m
Deckorators is a big name in America and only just now coming into Australia. Deckorators has been tested and loved in America and Canada for years and proven its worth. Don't miss out on the latest in decking technology, come into our showroom in Port Kennedy for a look at our range and take home a sample of the Deckorators range today.
For an installation and warranty guide, check out the Technical Information tab above for more details. For any enquires or questions, give us a call today.