Composite Cleaners
Deck Protect Decking Cleaner
Introducing the newest addition to Timberlast WA, the Deck Protect Composite Cleaner.
For your WPC (Wood Plastic Composite) unsealed composite decking, the composite cleaner will help rid those painful stains and spots. To help remove food stains, oil, grease, tree sap and mildew from your deck, try the composite cleaner by Deck Protect. The 3.5L cleaning bottle will cover up to 400m2 and with easy access application your deck will be looking spotless in no time. Refer to the label on your bottle for more information and concentrate ratios for your deck.
The composite cleaner by Deck protect is ideal for use around the house on your deck, hand rails, walkways, steps, screening and ramps.
Check out the Deck Protect brochures for instructions and remember to always spot test any chemicals before using them on your deck. Before using the Composite cleaner, check to see if it is compatible with your deck by checking your warranty and care instructions for your individual deck. See the 'Technical Information' tab above.
If you are unsure whether the Composite clean will work for you, give us a call today or alternatively take a look at the Deck Protect Composite Cleaner website for help.

DECK WASH By Urban Direct Wholesale
Introducing the new DECK WASH by New Tech Wood and Urban Direct Wholesale.
This is an Australian made, Eco-friendly and easy-to-use decking cleaner. Designed to be used on composite decks, this composite cleaner removes tannin, water stains, plant sap, mould, grime, dirt and fungus. With a water based formula, DECK WASH can be used to clean up food and drink stains as well as oil stains from BBQs.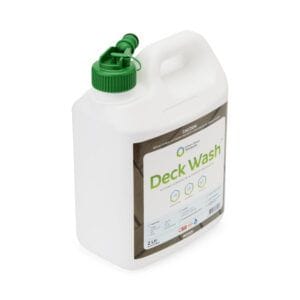 Drop into our showroom to dicuss more about DECK WASH with our team today.