DIY
Click on the image below to download our Do It Yourself info sheet.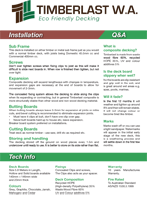 970 KB
*Manufactures limited warranty (subject to installation guidelines/terms and conditions)
To download the an image of the breaker board system click here

(353 KB)
Installation Guides
FAQ's
Sub Frame
Composite decking is installed on either a wood or metal sub frame, just as you would with a normal timber deck, with joist being at a recommended span of 300mm.
Screws
Don't over tighten screws when fixing clips to joists as this will make it difficult to slide next boards in. When row is finished then tighten, but not over tight. Click here for an example.
Expansion
Composite decking will expand lengthways with changes in temperature, and expansion gaps are necessary at the end of boards to allow for movement of 2-3mm.
Don't install on a 40+ degree day.
On hot days and boards being hot butt boards when doing end to end and in cold days leave 3 - 4mm for expansion on hot days. The concealed fixing system allows the decking to slide along the clips when it's expanding or contracting, but in general composite is more structurally stable than other wood and non wood decking material.
Breaker Board System Preferred/Recommended on Installation
Butting Boards
When butting boards always leave 3 - 4mm for expansion at joins or mitre cuts, and bevel cutting is recommended to eliminate expansion joints. Must have clips equal over butt. Never butt boards hard up to house etc, leave expansion.
Storing and Handling
Composite decking should be stored off the ground on wood placed every 1.5m and undercover until ready to use. It is better to store on it side rather than flat.
New Deck
We suggest you give the deck a hot mop to pick up dust and wood dust, this should stop water marks in the early stage of a new deck.
What is composite decking?
Our composite decking is made from Waste wood fiber 60%, Recycled HDPE 35%, UV and colour additives 5%.
Does the environment benefit?
Yes, the composite is recycled products.
Is the deck board slippery when wet?
No the boards are slip resistant and grip well in the wet,and is great around wet areas eg, spas, pools, marinas. Our composite decking has a AS/NZ 4586:2004 R11 Slip rating for pedestrian surface.
Will it fade?
In the first 12 months it will weather and lighten up around 5% and then will remain stable. It will not change colour or become tired like timber.
Marks Scratches - Cleaning
Marks wash off or you can use a light sandpaper or wire brush. Scratches can be removed with a light sandpaper or a wire brush. This will not affect the colour. Watermarks will appear in the initial early stage of the new deck, this is a weathering process and will settle down in the first few months. Cleaning is a sweep or gurney.
How do you cover ends of board?
Use either the fascia or individual end caps