LED Deck Lights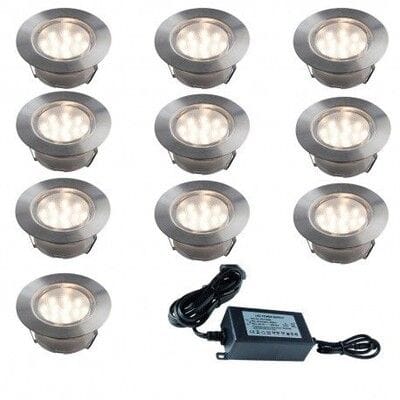 Highlight elements of your home exterior for safety or purely for the aesthetics.
Available in WARM WHITE (3000k) with optional remote control, SIROS LED deck lights are the perfect addition to your external living areas.
Use them to outline your decking and steps with adjustable intensity with the optional remote dimmer control.
Installing SIROS deck lights is easy thanks to the Plug & Play system. Simply connect them with the male/female plugs provided.
Each deck light is 600mm diamater, waterproof, and guaranteed for 3 years, with a lifespan of 50,000 hours.
Their individual intensity is 110 Lumen, which can be adjusted using the optional Dimmer, and the low voltage 12V offers maximum protection against the risk of electric shock.
Each kit comes with 10 white deck lights, with a unit power of 1.5W and a transformer of 30W. Each deck light is equipped with 15 SMD2835 LEDs, encased in 304 stainless steel, and 2 cables of 1 metre each, which when placed end to end covers 20 linear metres.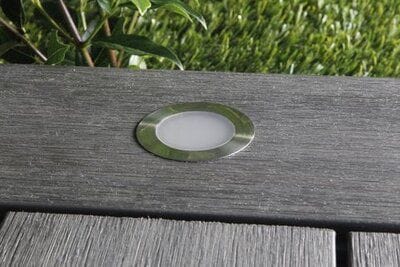 Technical Data
Diameter: 60mm
Guarantee: 3 years
Insulation: IP67
Replaceable Light Source: no
Plate Material: Frosted polycarbonate
Installation: Plug and play
Max Spots Per Installation: 15
Drilling Diameter: 40mm
Cable Length: 2 x 1m
LED Life (H): 50,000
LED Energy Class: A+
Voltage: 12V
Body Materials: INOX (304)