Eva-Last Products
Eva-Last's wide assortment of composite decking is known world-wide for its long-life span and range of products. Eva-Last is low maintenance and environmentally friendly and uses bamboo-plastic composite decking boards. No matter what your next project is, Eva-Last will have you covered with their wide range of products.
With a range of decking and screening, Eva-Last's innovative technology is designed not only to look good but to last longer than natural timbers and other composites on the market. Eva-Last's Infinity range of decking is capped in a protective layer to further add to the durability and longevity of the boards which will protect it against weathering and day-to-day wear.
Why Choose Eva-Last?
Environmentally friendly
Low maintenance
No oiling, varnishing or painting required
UV resistant
Scratch resistant
Easy and quick to install
Less sub-structural materials, which means you save time and money
Fewer fixings with the secret fixing system
Moisture resistant
Slip resistant
Eva-Last Decking Examples
Below is an example of the Eva-Last I-Series Fire Koa boards: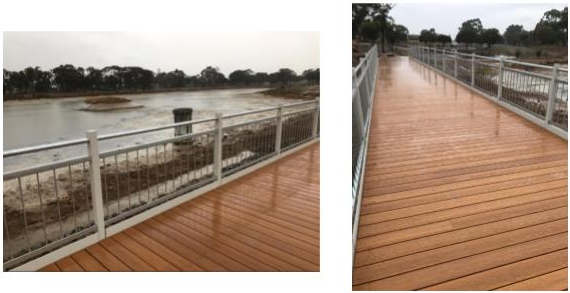 For more information, check out the Eva-Last website or come and see us at Port Kennedy to take a look at our showroom and take a sample home today.
Visit Eva-Last at https://au.eva-last.com/